Today Sunbasket is sharing this recipe for their "Chipotle Roasted Chicken Wings with Sweet Potatoes and Salsa Verde" with me. And I, in turn am sharing it with you! And wait until you see how simple it is to make.
(This post contains affiliate links. I may make a commission from sales but your price remains the same.) Get 3 Meals Free from Sunbasket!
The Meal:
This meal is incredibly simple to make: simply toss chicken wings in chipotle BBQ sauce and roast in the oven alongside sliced sweet potatoes. After cooking, the potatoes are tossed in a healthy salsa verde! Get 3 Meals Free from Sunbasket!

The Sauce: Use store bought and add the chipotle!
When it comes to Whole 30 there are more and more amazing pre-made options available in stores and online. Tessamae's BBQ Sauce has become the go to many Whole 30'ers and is available at many markets including Whole Foods Market. Then all you have to do, is add some chipotle chilis in adobo sauce to spice it up. Of course if you prefer your wings a little less hot, you can omit the chili peppers.
WHY DO I RECOMMEND SUN BASKET?
Easy, Delicious Recipes
The food is delicious! You choose 3 recipes for 2 or 4 people at $11.49 per meal
Customize with Paleo, Gluten–Free, and Vegetarian options. Most recipes take about 30 minutes to prepare.
Non GMO and Sustainably Sourced
Just how I like it! Ingredients are seasonal (better for you and the planet) and pre–measured – less hassle, less waste!
Skip the grocery store and discover new products and flavors that are hard to find on your own. Plus you become a better cook!
Convenient Delivery
Weekly delivery to your door. Ingredients are shipped in an insulated box so they stay fresh. Recyclable and reusable packaging materials are used and Sun Basket provides free pick up of packaging.

How To:
To make this gorgeous meal I simply pulled the Sun Basket bag with all the pre-measured ingredients out of my fridge…
…did a little slicing and chopping…
…and popped it all in the oven.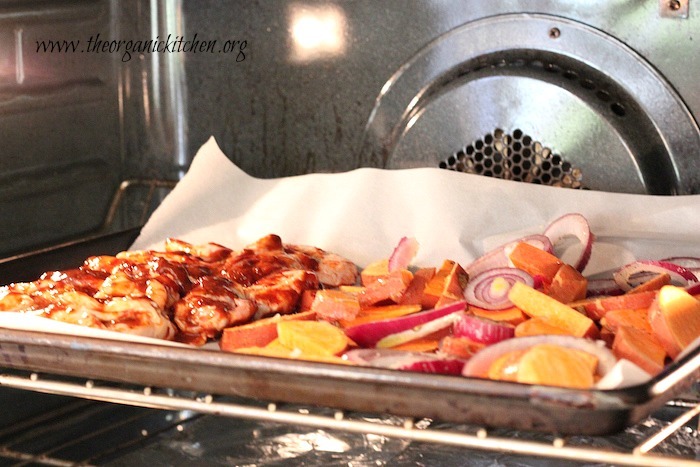 Forty minutes later we enjoyed these tender roasted chicken wings in a spicy chipotle BBQ sauce baked alongside sweet potatoes drizzled with a little salsa verde and only had to clean one pan!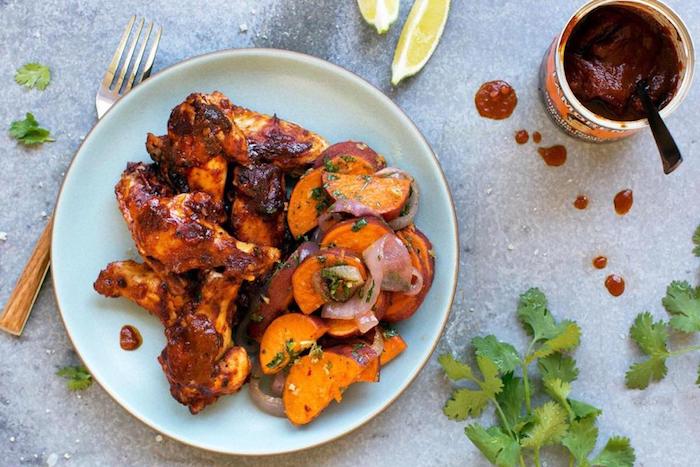 The Recipe: Chipotle Roasted Chicken Wings With Sweet Potatoes and Salsa Verde
Tips and what you need: You can find paleo/W30 approved BBQ sauce online or in many stores. To make the sauce 'chipotle sauce' you will need gluten free chipotle in adobo sauce. They are usually available at the grocery store but if you can't find them you can have them delivered to you door.
Chipotle Roasted Chicken Wings and Sweet Potatoes with Salsa Verde
A quick and easy spicy meal! Use a store bought Paleo or Whole30 BBQ sauce and add chipotle peppers for a little zing! If you prefer your wings a little more mild, omit chipotle peppers.
Keyword:
easy dinner recipe, Paleo recipes, Whole30 recipe
Ingredients
Whole 30 friends you will use dates: 

6

large pitted dates

1/4

cup

boiling water
For Sauce:
1

cup

bbq sauce (whole30 or paleo use a compliant sauce)

1

tablespoon

chipotle chili in adobo sauce, finely minced
Potatoes and Chicken:
1

large garnet sweet potato

frequently mislabeled as yams, 1/4" slices cut in half (half moon)

1

red onion

peeled and thinly sliced (1/4" rounds)

3/4

pound

chicken wings

about 12
For Salsa Verde
1

Tablespoon

fresh cilantro

plus more for garnish

1

clove

garlic

peeled finely minced

juice of 1 lime

1/2

tsp

cumin

olive oil

freshly ground pepper

sea salt
Instructions
Preheat oven to 425 degrees and move oven rack to upper third of oven. Place parchment paper on cookie sheet. Set aside.

Make Sauce: combine BBQ sauce with minced chipotle chili in adobo. Whisk until smooth.
Potatoes and Chicken prep:
Slice sweet potatoes and cut in half. Making a half moon shape.

Peel onion and slice into 1/4 inch rounds.

Place onions and sweet potatoes on one side of parchment covered cookie sheet and drizzle with olive oil until all veggies are glistening. Toss. Sprinkle with sea salt and pepper. Place in oven for 15 minutes.

While veggies roast place wings in bowl, sprinkle with salt and pepper and toss with chipotle BBQ sauce. When potatoes have cooked for 15 minutes add chicken to other side of pan in a single layer and roast for 30 more minutes.
Salsa Verde
While chicken and potatoes cook, mince cilantro and garlic, then juice lime.

Combine cilantro, garlic and lime juice with 2 Tablespoons olive oil and 1/2 tsp cumin and whisk.

When chicken has cooked for 30 minutes remove from oven, toss sweet potatoes in salsa verde (optional, I tossed mine, my husband didn't) and serve!
My thanks to Sun Basket for sharing this fabulous meal recipe. Bon appetit! ~ Linda Spiker
Post tags: gluten free option, dairy free, paleo