Hello crostini…I have missed you.
It's been a while since I have posted an appetizer recipe. And I wasn't planning on publishing one today, but even the best made plans can be improved! If you saw my last post you know I had a pretty fantastic Fourth of July menu all set to go, but then I was walking through the grocery store doing my party shopping and saw this…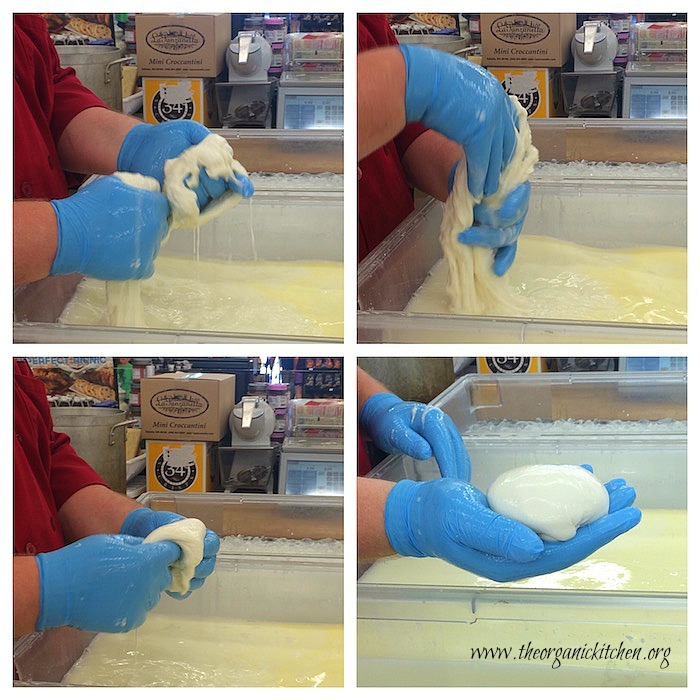 Yup, that is some freshly made Mozzarella happening! So 'Caprese Crostini With a Twist' was added to the menu. I love Crostini because it is very little work and requires no refreshing, hovering or fussing over, simply set it out and party guests just dish it up whenever they want.
"Caprese" salad originated on the island of Capri in Italy and is traditionally served with balsamic vinegar. Mine has a bit of a twist, I use the best white balsamic on the planet! It's called Prelibato (affiliate link), and if you are wary of buying it because you don't know how else you will use, don't be! I use it in so many recipes (all posted below). This vinegar is so good you will want to drink it straight out of the bottle.
This recipe also calls for a basil 'chiffonade', which is an easy knife skill to acquire. Just stack a few basil leaves, roll nice and tight and then slice!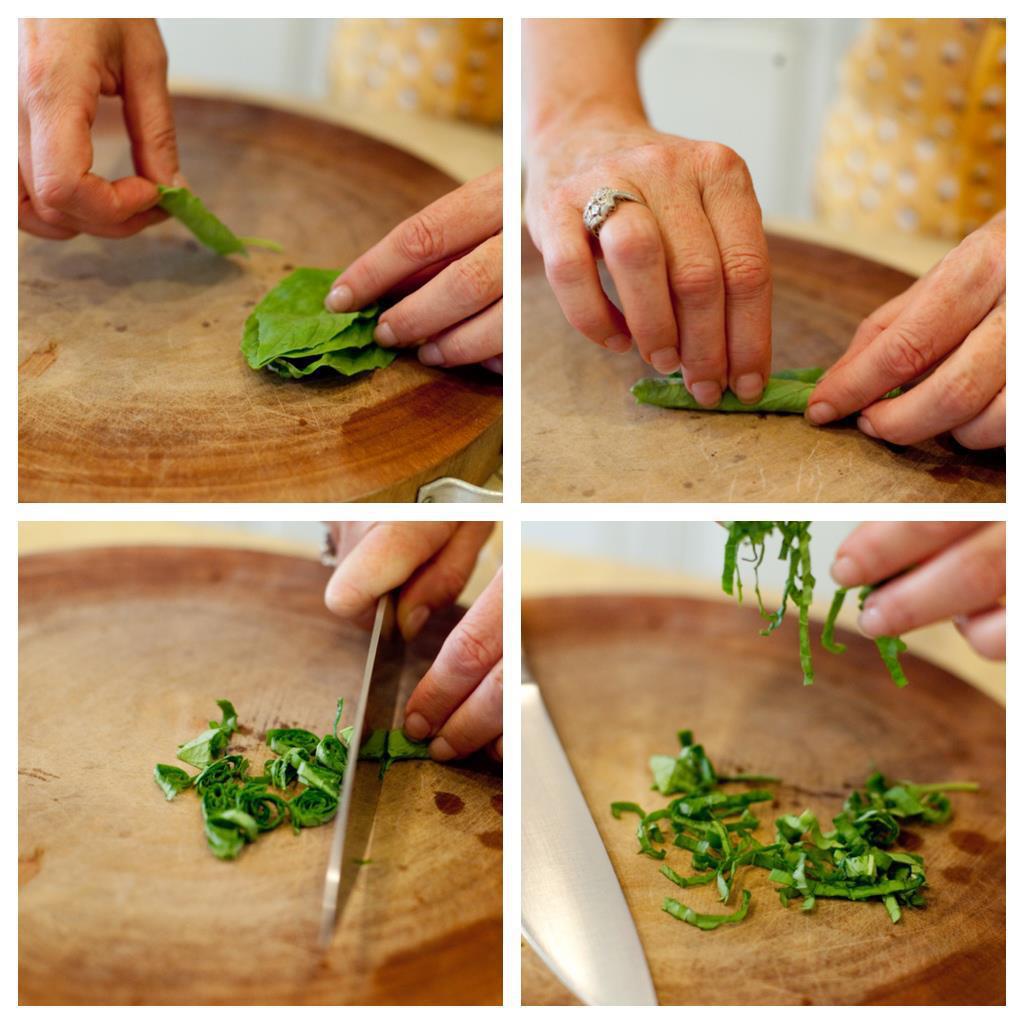 You may be wondering why I am not calling this a Bruschetta. Crostini and bruschetta are very similar. As far as I have been able to research the only difference is the size of the bread used. Smaller baguettes and thinner slices are used for crostini while bigger baguettes and thicker slices are used for bruschetta.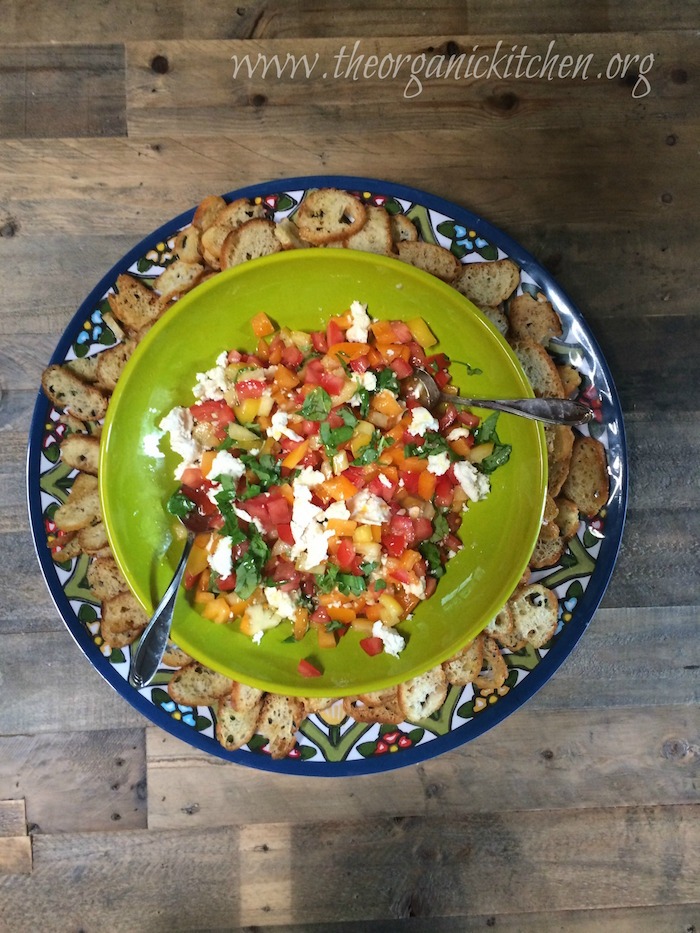 The Recipe: Caprese Crostini with a Twist
Tips and what you will need: Be sure to buy a baguette with a small circumference, slice thinly and bake till quite crispy. You will need sea salt (my favorite) and white balsamic, Prelibato is the best! (affiliate links)
Creprese Crostini with a Twist
You can make this recipe with any tomato. I made it with 4 small yellow, 4 small orange and 4 small red tomatoes, but cherry tomatoes, heirloom etc...work well too!
Keyword:
easy appetizer recipe, party recipe
Ingredients
12

small tomatoes

see summary above diced small and set on paper towels to soak up extra liquid

16

leaves

basil

chiffonade

1/3

cup

good quality extra virgin olive oil

plus more for brushing bread

2

cloves

garlic

minced

juice of one lemon

3

Tablespoons

white balsamic

6

oz

freshly made mozzarella

preferably buffalo

sea salt

pepper

1

baguette

thinly sliced, brushed with olive oil and baked till crispy
Instructions
Preheat oven to 400 and place rack in upper third of oven

Thinly slice baguette, place slices on a cookie sheet, brush with olive oil and bake till crispy

Place diced tomatoes on paper towels to absorb extra liquid and then place in bowl

Chiffonade basil and add to tomatoes

Pull apart cheese adding small clumps to tomatoes, sprinkle liberally with sea salt and freshly ground pepper, toss

Combine olive oil, lemon juice, white balsamic and minced garlic and whisk

Pour over tomatoes, toss and serve alone on spoon on to crostini bread!
More Recipes using Prelibato White Balsamic
Watermelon, Mint and feta Salad
Greens with Watermelon and Strawberries
Spinach Salad with Roasted Carrots
Chopped Salad with Apple Vinaigrette 
MAY I PLEASE ASK A LITTLE FAVOR?
We small bloggers need all the help we can get. Subscribing and sharing on social media is very appreciated!