I LOVE avocado toast. It's a favorite for breakfast or lunch. So Imagine how happy I was when a beautiful organic cafe opened in my neck of the woods that makes a fabulous avocado toast with a unique touch all their own. And then to make my life even better The Daily Harvest agreed to share their recipe for Kale Avocado Toast with my readers. This is a good day. Photo credit lmariephoto.com
(This post contains affiliate links. I may make a commission from sales but your price remains the same.)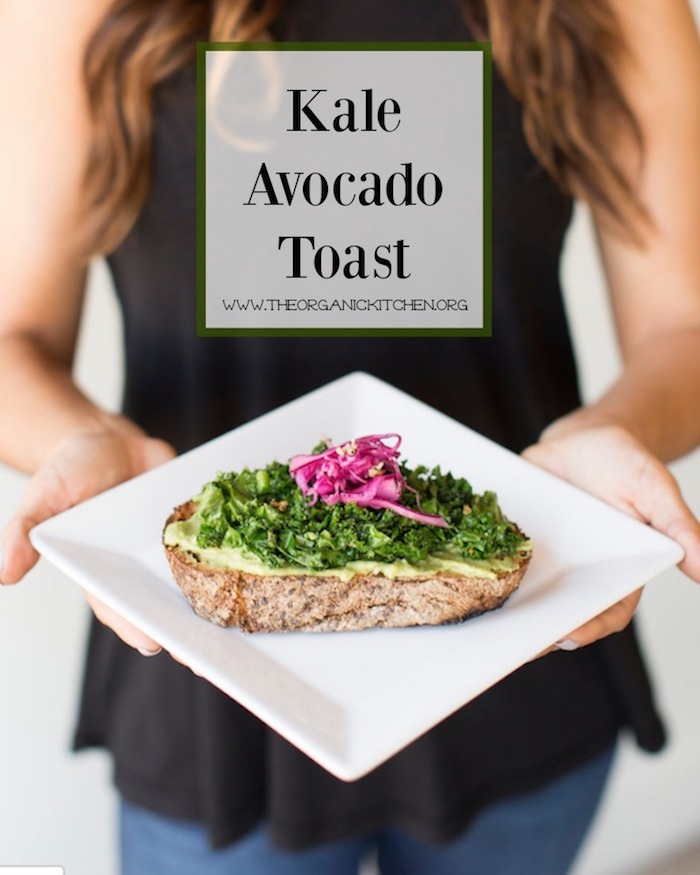 The Daily Harvest:
We don't live in a small town, but it's not huge. When a new restaurant does open, it's usually a chain. When The Daily Harvest opened their doors it quickly became my favorite stop for a healthy lunch! It's very rare we get a unique eatery here in the Santa Clarita Valley, much less an organic one that features a seasonal menu, fresh pressed juices, amazing breakfasts, soups, wraps and sandwiches, not to mention paleo, vegan and gluten free options. Just look at the color in these meals! The juices and pressed almond milk are the best I've tasted. You can check out The Daily Harvest menu here.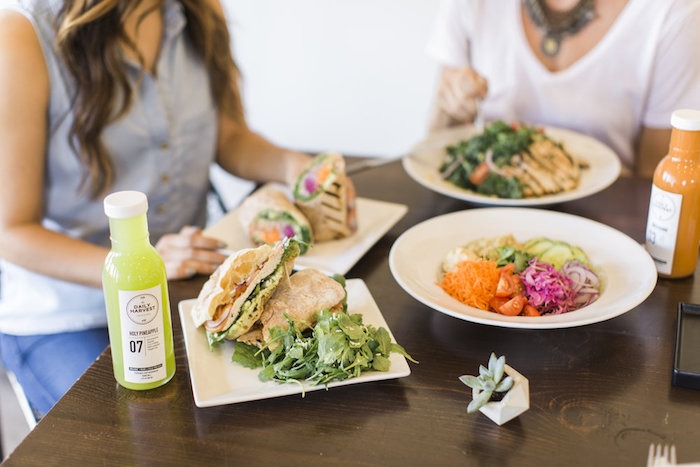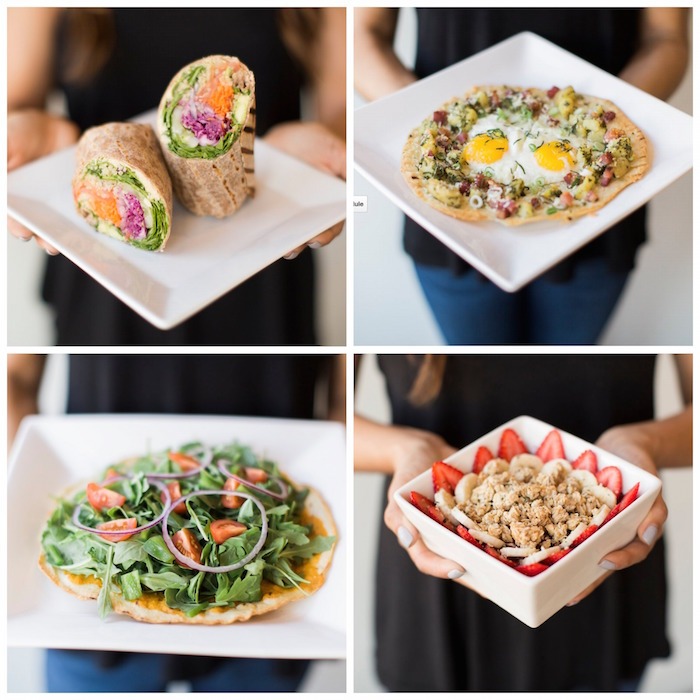 The Owner:
The owner of The Daily Harvest, Nathalie Rondou has worked hard to create a bright and beautiful ambiance that is just as pretty as the food…and as a side note, the music is always on point!
The Daily Harvest Kale Avocado Toast!
This hearty artisan bread is toasted, then topped with avocado mash,  kale sautéed in garlic, and finished with bright pink pickled cabbage. Pickled cabbage is very easy to make and adds flavor and color to salads and sandwiches. Prettiest avocado toast I have ever seen!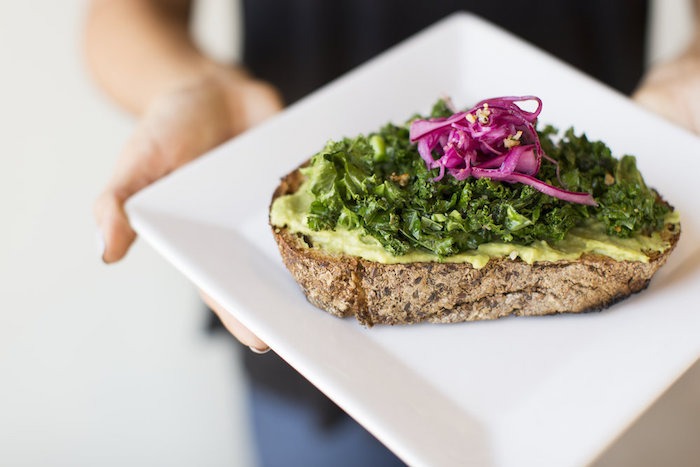 The Recipe: Kale Avocado Toast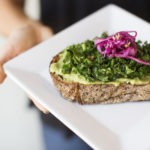 Kale Avocado Toast~ My Favorite Restaurant Series: Part 7
Be sure to make pickled cabbage the day before. It keeps well in the fridge for a couple of weeks. Use it in salads, sandwiches...just about anything!
Keyword:
easy appetizer recipe, easy lunch recipe, light recipe
Ingredients
Pickled Cabbage Slaw: Make ahead
1/4

red cabbage

super thinly sliced, I use a mandolin

1/4

green cabbage

again, super thinly sliced

1/4

of a red onion

thinly sliced

1/2

cup

red wine vinegar

1/4

cup

olive oil

a generous pinch sea salt

1/2

tsp

black pepper
The Toast:
4

pieces

of your favorite artisan bread

2

cups

kale

ribs removed and chopped

1/2

a clove of garlic

minced finely

2

large ripe avocados

peeled and mashed

1-2

teaspoons

fresh lemon juice

pinch

sea salt

pepper
Instructions
The Pickled Cabbage: Make ahead by tossing everything together and then allowing to sit in the fridge at least overnight. The longer it sits the better it tastes!

Wash and dry kale. Remove center ribs from stalks. Discard ribs, chop leaves. Prep garlic.

Set a pan on medium heat. Add a little butter or olive oil and saute kale and garlic for 2-3 minutes. While kale cooks, prepare avocado and pop bread in the toaster.

With a fork, mash avocado, lemon juice and sea salt until smooth.

Spread toast with avocado mash, top with kale and pickled cabbage! Serve.
I hope you enjoy this healthy recipe as much as I do! You can follow The Daily Harvest on Facebook and Instagram. To see more of my favorite restaurant series please click:
Kale Salad with Citrus Vinaigrette from 370 Common
The Secrets to Making the Best Burger Ever from The Rustic Burger
Pasta with Pea Sauce from The Foundry Grill
Citrus Stuffed Roasted Chicken from The Communal
Chopped Chinese Chicken Salad from Katsuya by Starck
Artichoke Heart Crostini from Settobello Pizzeria Napoletana
Divers Scallops from Chef Brown at Powder, Waldorf Astoria

MAY I PLEASE ASK A FAVOR?
We small bloggers need all the help we can get. Subscribing and sharing on social media is very appreciated!