I have been making traditional Orange Almond Cake for years. But recently I turned this recipe upside down. Literally. This show stopper is my Upside Down Orange Almond Cake!
(This post contains affiliate links. I may make a commission off sales but your price remains the same.)
Naturally Dairy and Grain Free!
This isn't a cake recipe where I have replaced flour and dairy with substitutes, Orange Almond Cake is a traditional recipe that was always made with very few ingredients: fine almond meal, eggs, whole oranges and sugar. It has a bit of a custardy texture and served warm straight out of the oven it is quite heavenly. It's also delicious the next day for breakfast!
To Make The Traditional Cake Even Prettier I Turned it Upside Down…
…and used blood oranges for their deep, rich color. Of course if you don't have access to blood oranges just use regular oranges. It will still be delicious, and beautiful!
Two Versions: Traditional and Low Carb…
In the past I always made this simple cake with organic granulated sugar. But this week I tried a low carb version by using powdered stevia and it was fantastic! The texture was perfection and the taste, lovely. I was very pleasantly surprised. So feel free to make whatever version floats your boat! When I used a nutrition calculator the carb count came out to 6 grams of carbs per serving.
Perfect for Parties…or Breakfast!
Honestly, this little cake makes quite the impression. Perfect for parties, brunches, showers or dessert and then breakfast the next morning! When a cake is made with oranges, eggs and almonds, there is no reason not to eat it for breakfast.
Don't Be Nervous About Turning That Cake Upside Down…I Got You!
To make 'the flip' foolproof I use a springform pan and parchment paper. If you don't have a spring form pan, that's ok too. Parchment and a good 9″ round cake pan will work too. You'll just need to follow the tips in the recipe below to ensure success.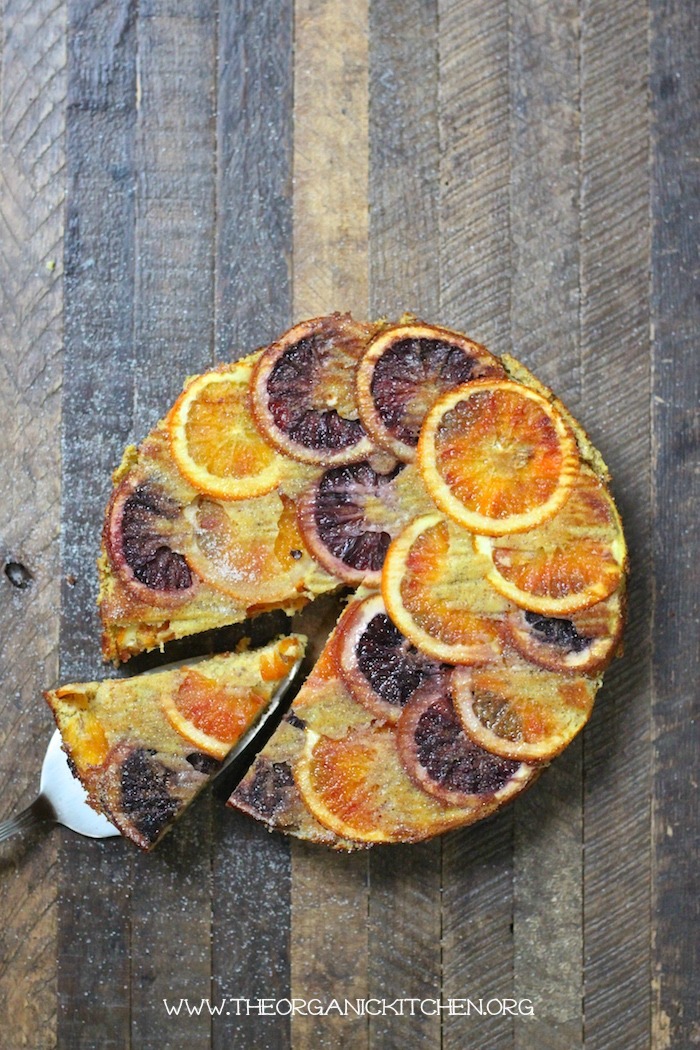 The Recipe: Upside Down Orange Almond Cake
Tips and what you need: Regular almond meal works fine for this recipe but "fine" almond meal works even better! If making the low carb version, you will need stevia powder. I almost always recommend using parchment paper when baking but for this recipe it's a must! It not only prevents sticking but makes the turning process easier. I also recommend a springform pan, but if you don't have on you can use a 9″ round cake pan and pray. (Just kidding, you've got this!) You will need a blender and as always a good knife!
MAY I PLEASE ASK A FAVOR?
We small bloggers need all the help we can get. Subscribing and sharing on social media is very appreciated!