Looking for healthy? Looking for delicious? Looking for Paleo-Whole 30-gluten and dairy free recipes? Well I have them and this recipe for Whole 30/Paleo Chicken Bruschetta and Zoodles is all of the above!
(This post contains affiliate links. I may make a commission off sales but your price remains the same.)
To Get the Most Tender Flavorful Chicken Breast…
…I will encourage you to brine the chicken breasts in salt water for at least 30 minutes because this renders the most tender, flavorful and moist chicken. There is a scientific explanation, like the salt water changes the molecular make up of proteins…blah, blah, blah, science, science, let's eat! If the word 'brining' intimidates you, don't panic. Brining is the simple process of soaking the the breasts in salted water. I use pink Himalayan Salt: After brining, you sprinkle with seasonings, brown in a pan and pop in the oven!

While Chicken Cooks, Prep Bruschetta Topping and Zoodles!
This bruschetta topping is the perfect, flavorful topping for chicken! Diced tomatoes, minced garlic, chopped basil and a little balsamic is all you need! Then we top with a few toasted pine nut and voila! A gorgeous healthful meal.
For the Zoodles…
For those unfamiliar, zoodles are zucchini noodles. Many super markets now carry zoodles already spiraled, as they have become very popular. But if your local store doesn't carry them, don't worry, you can easily make your own. You can use an affordable hand crank spiralizer….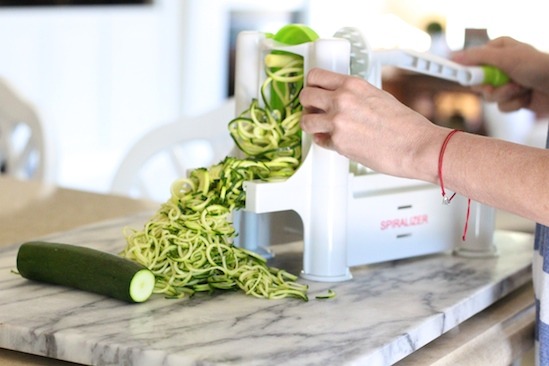 …BUT, If you Think You Might Want To Spiralize Other Veggies…
…you may wish to invest in the attachment for the Kitchen Aid mixer It's much sturdier than plastic and can handle hard veggies like sweet potatoes easily!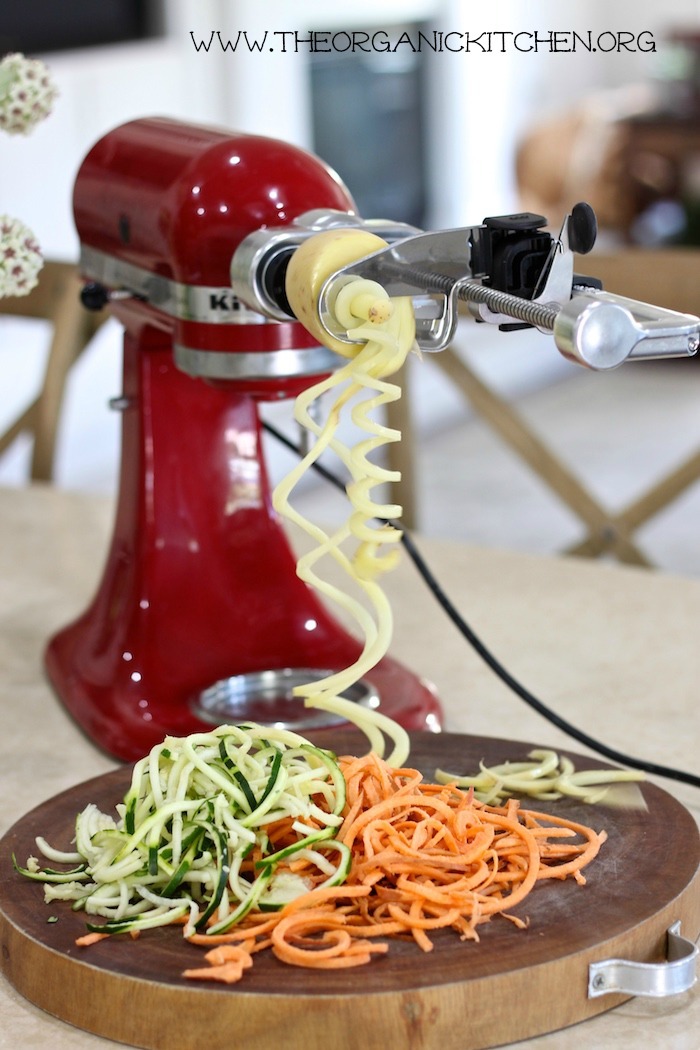 To Cook Zoodles:
Just toss in a pan with a little olive oil and sea salt. You only need to cook them long enough to warm them up, 2-3 minutes. Then top with chicken and smother in the bruschetta topping. Yum! An incredible meal, and you'll never miss the carbs!
The Recipe: Chicken Bruschetta and Zoodles – Whole 30/Paleo
What you need: if you don't have a store near you that carries premade spiraled zucchini you will need a hand crank spiralizeror the attachment for the Kitchen Aid mixer .
MAY I PLEASE ASK A FAVOR?
We small bloggers need all the help we can get. Subscribing and sharing on social media is very appreciated!