I know I have said this before, but one of the best things about Whole 30 (besides feeling great) is that it turns you into a better cook. When you can't reach for the grains or dairy you have to get creative. And when that creativity results in something as wonderful as this Chopped Chicken Salad with Homemade Ranch, it's a beautiful thing indeed. This salad is so good you would never know it was made without buttermilk!
(This post contains affiliate links. I may make a commission off sales while your price remains the same)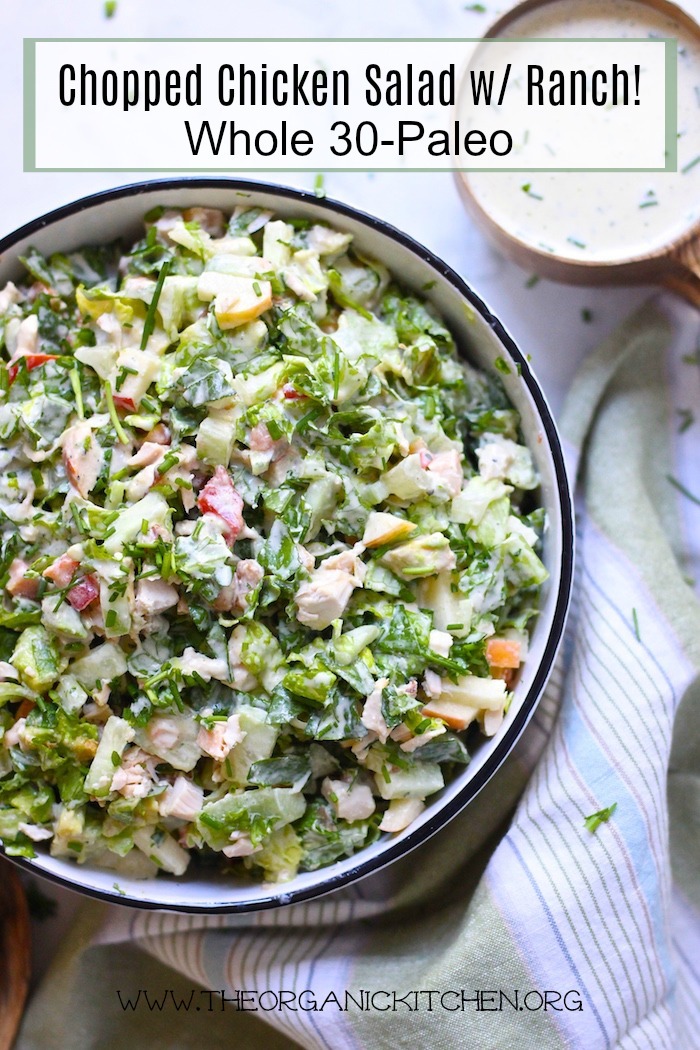 The Chop!
This salad is a meal unto itself. Finely chopped romaine, diced rotisserie or my pulled chicken, tomatoes, avocados, cucumbers, apple and walnuts all tossed in a homemade dairy free ranch dressing. It's so delicious it rivals any restaurant chopped salad (actually it out does most restaurant salads but I didn't want to sound braggadocious)
That Creamy Dreamy Ranch Though…
This ranch dressing is just as creamy as my Buttermilk Ranch but it's made with a version of my cashew milk recipe. (If you aren't on Whole 30 you could use buttermilk in this recipe) You could also make it with coconut milk, but I will just say… I've tried it multiple ways and the cashews works and taste the best. And it really is just so easy! That said if you want to buy Whole30 Paleo approved ranch instead, here it is!
How I Make It:
I start by making a mayonnaise base. It's really easy but it is important to follow all the directions I give you in the recipe. Skipping any of them can cause your mayo to not set up. It's happened to me and it's a bummer.  I know some people have success using a regular blender to make mayo, I do not. I use an immersion blender. So here is how it's done:
Place room temp egg, lemon juice and extra light olive oil or avocado oil into a jar with a wide enough opening for an immersion blender to fit in.
Keep the blender at the bottom of the jar and whirl. Immediately you will see the oil and egg thicken up…it's mayo magic!
Then add the cashew milk, herbs and spices and voila! Homemade dairy free ranch that is both Whole 30 and Paleo compliant!
The Stunning Result!
A beautiful, delicious salad you can sink your teeth into. A chopped salad worth the chopping, that's for sure! And that ranch dressing stays good for five days, trust me you'll find other uses for it.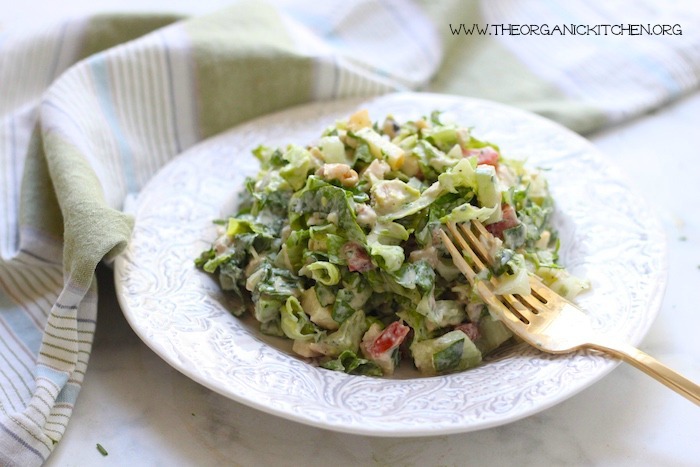 The Recipe: Chopped Chicken Salad with Ranch ~ Whole 30/Paleo
What you will need: an immersion blender. If making your own nut milk you'll need my cashew milk or almond milk recipes. If you prefer to buy Paleo/Whole 30 Ranch <—click!