Every once in a while I have a good idea. The other night was one of those times. I was making my Spiralized Sweet Potatoes with Chipotle Lime Dipping Sauce  and I thought "I wonder if I could make these spirals into sweet potato 'rice'?" Yeah…food bloggers think about things like that. Five minutes later I found out the answer is yes, and that there are two ways to do it! So let's get to it: How to Make Sweet Potato Rice!
(This post contains affiliate links. I may make a commission off sales but your price remains the same.)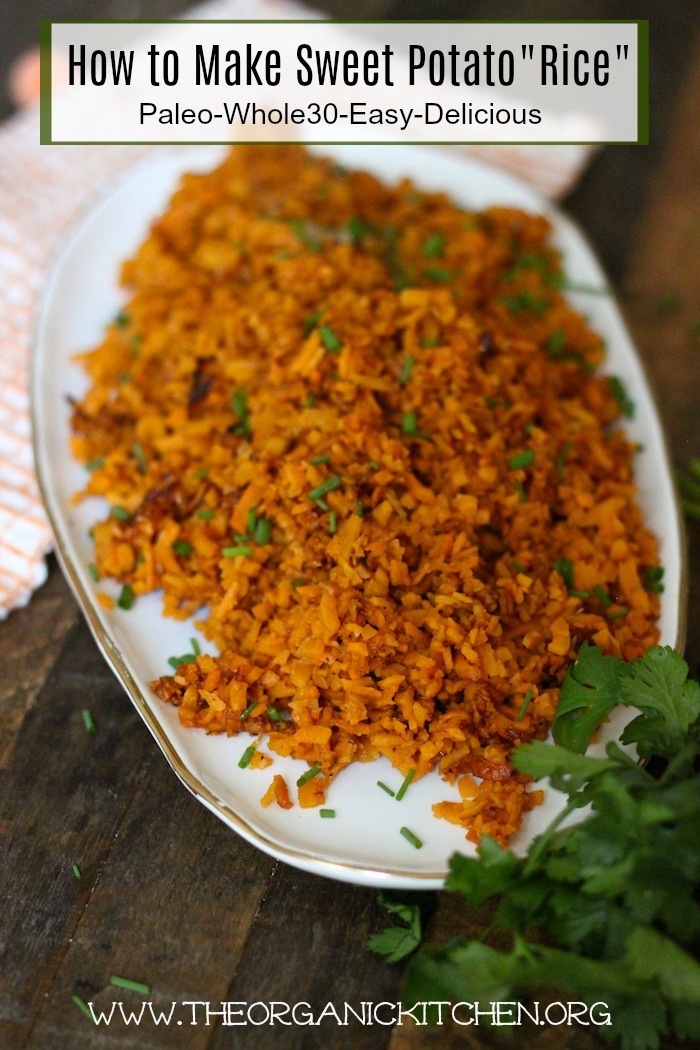 Sweet Potato Rice: The Other Grain Free Rice
I assume by now most of you have seen or at least heard of cauliflower 'rice'. It's a life saver for those that try to avoid grains or just want to amp up the use of veggies in their diet. I happen to love it, and use it often (see here, here and here). But what I love about this sweet potato rice is that it feels more like real rice! And the color is so appealing, Making Mexican food? Use this as a rice substitute. Have extra? Cook it up in a pan with eggs the next morning! It tastes great alone or served with beef or chicken. You can even use it inside a taco!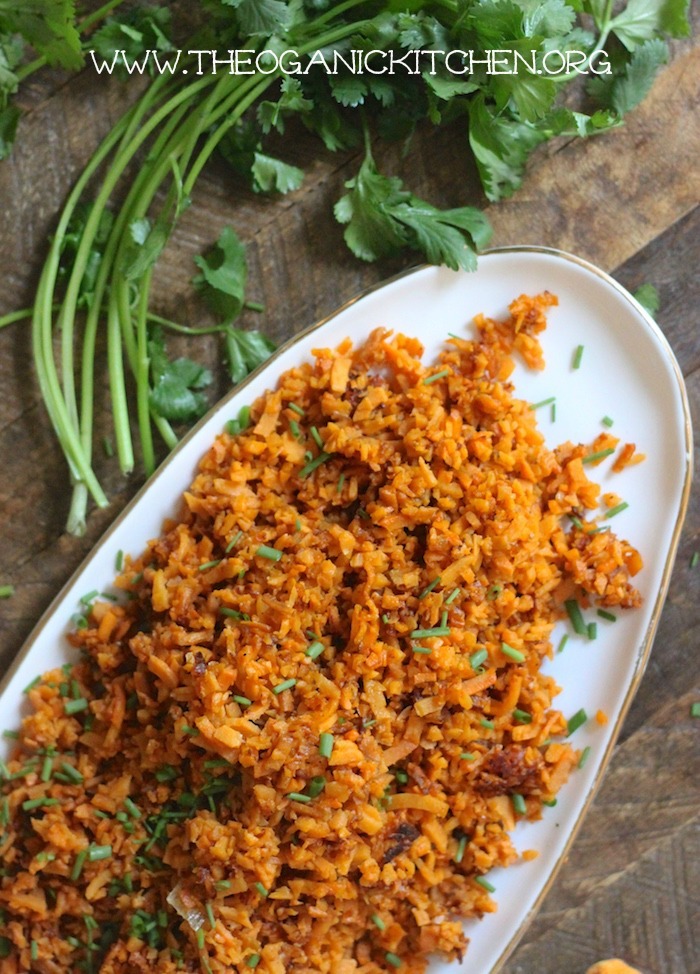 How to Make It:
We start with spiralized sweet potatoes: in a perfect world everyone would live near a store that sells prepared spiralized sweet potatoes. But if your local store doesn't carry them, don't worry, you can make your own. You can use an affordable hand crank spiralizer, BUT I am going to lay some truth on you, the plastic spiralizer is great for softer foods like zucchini and white potatoes, but not so much for sweet potatoes. So if you think you may want to spiralize frequently (and I highly recommend you do!) you may wish to invest in the attachment for the Kitchen Aid mixer. It's much sturdier than plastic and can handle hard veggies like sweet potatoes easily. Plus, you can walk away while the machine does the work!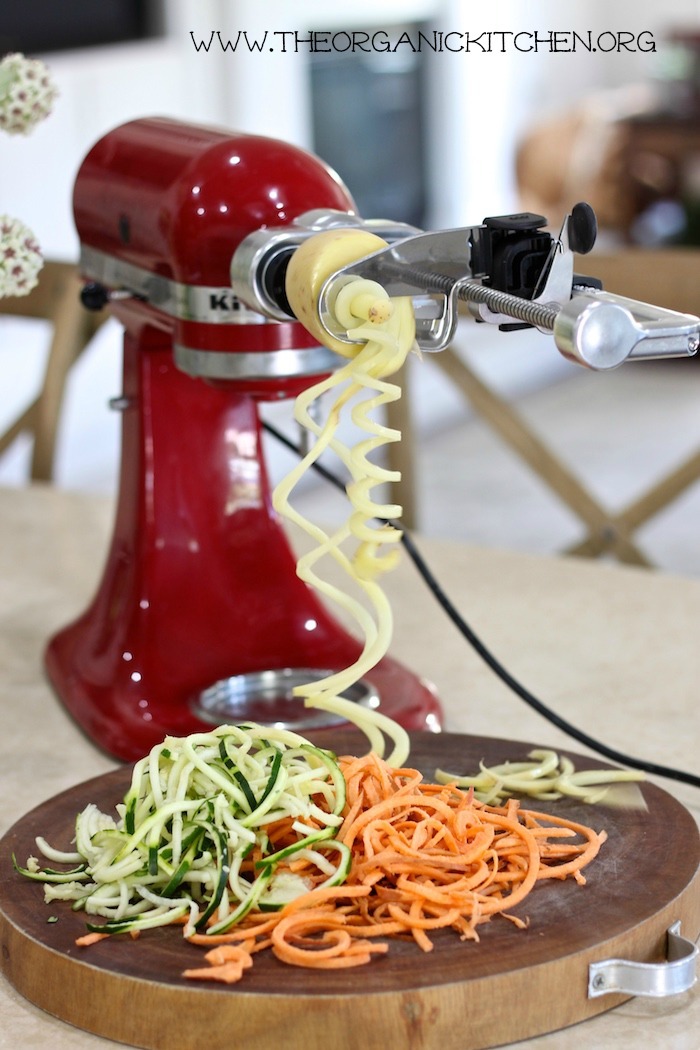 After Spiralizing the Sweet Potatoes You Have Two Options…
…the easiest option is popping them in your food processor for literally 5 seconds.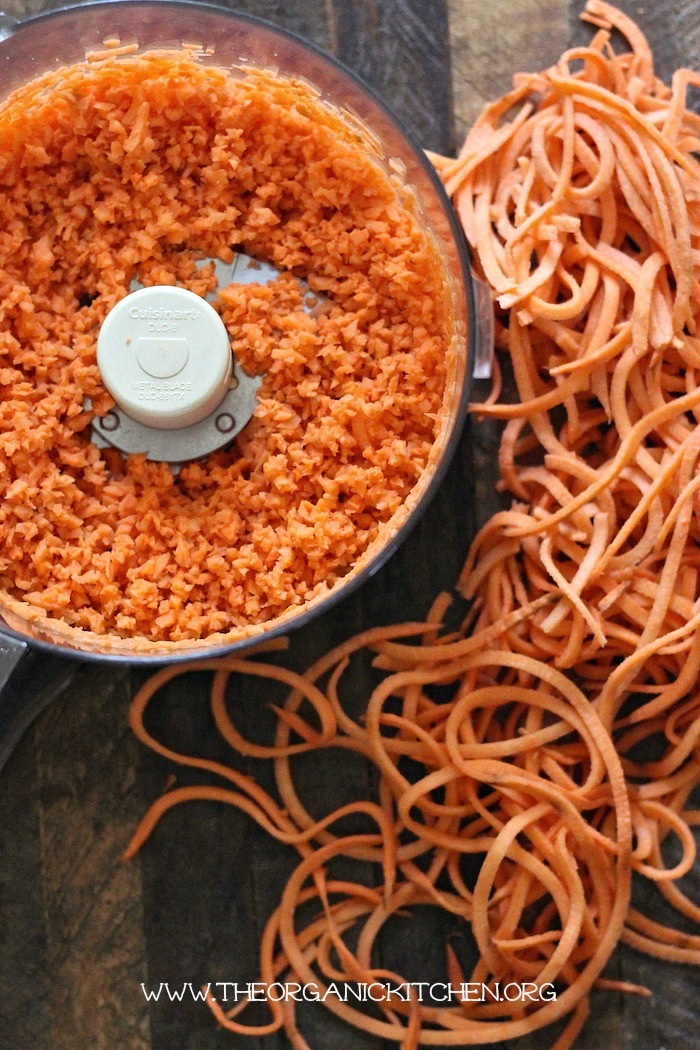 The second option is super easy too. Just chop up those orange spirals with a good knife. It  takes 2-3 minutes. So either way, it works perfectly!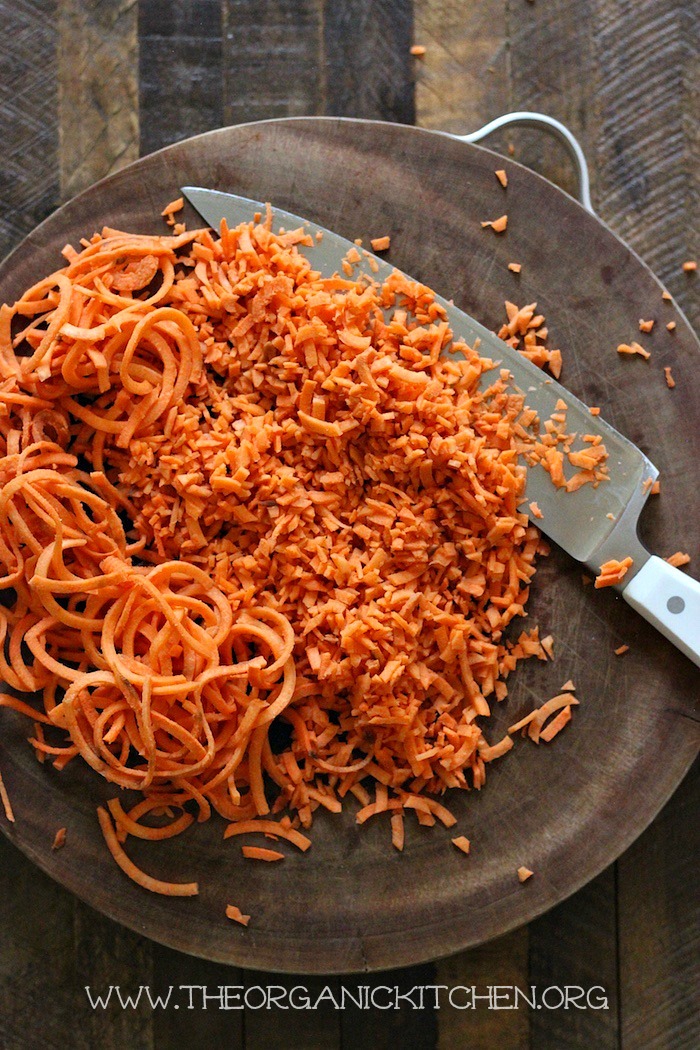 Make Ahead Of Time!
The great thing about sweet potato rice is, you can make it ahead of time! Just  "rice" it, place in a covered container, and pull out of the fridge when you are ready too cook. It keeps well for 5-6 days. To cook, just add olive oil, butter or ghee to a hot pan and cook until slightly crispy. Season with salt and pepper and voila! A delicious side dish in minutes. Be sure to check back next week because I have a Mexican Sweet Potato Rice with Pulled Pork coming your way!
How To Use It:
You can use this sweet potato rice as a side dish for Paleo/Whole 30 Mexican Food or on this amazing Pulled Pork Dish!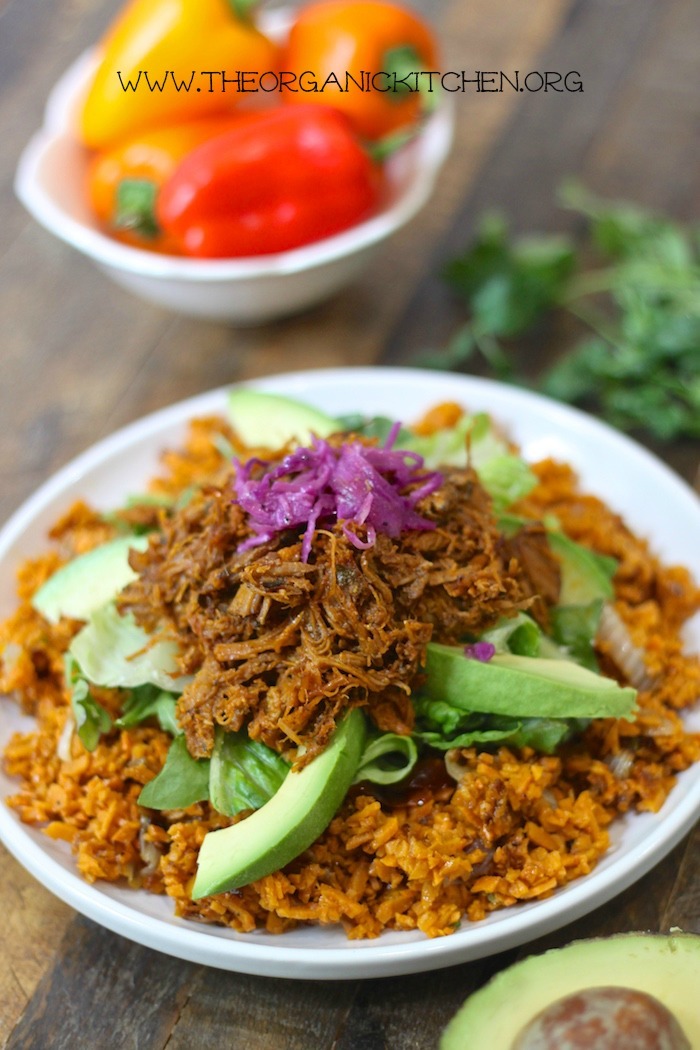 The Recipe: How to make Sweet Potato Rice! Paleo-Whole 30
Tips and what you need: if you have a store in your area that sells pre-spiralized sweet potatoes, you can use those and save time. If not make your own with the attachment for the Kitchen Aid mixer.You can use a food processor or a a good knife to make the spirals into "rice".
How To Make Sweet Potato Rice: Paleo-Whole 30
Easy rice substitute made with sweet potatoes
Keyword:
easy side dish recipe, Whole30 recipe
Ingredients
6

cups

spiralized sweet potatoes

about 3 potatoes see instructions in blog post

Olive oil

butter or ghee

Sea salt and pepper to taste
Instructions
Place spiralized sweet potatoes in a food processor and pulse for five seconds. If using a knife instead of processor, chop spiralized potatoes until they resemble large grains of rice

Place a large pan on high heat, wait 60 seconds, then add enough olive oil to generously coat bottom of pan

When oil is hot but not smoking add riced sweet potatoes

Cook, stirring frequently for 8 minutes or so. Turn heat down if needed. "Rice" should be cooked but a little crispy so it has a 'bite'

Season to taste with sea salt and pepper, serve!
MAY I PLEASE ASK A FAVOR?
We small bloggers need all the help we can get. Subscribing and sharing on social media is very appreciated!