Today I am going to teach you to make one of my favorite soups: The Organic Kitchen's Roasted Vegetable Soup. It is warm, hearty, filling and delicious! And it just so happens that it is dairy, grain and gluten free.
(This post contains affiliate links. I may make a commission from sales but your price remains the same.)
What's in this Roasted Vegetable Soup?
Easy answer, Broth and veggies. We start by chopping and roasting a variety of fresh vegetables: carrots, butternut squash, onion, sweet potato and zucchini.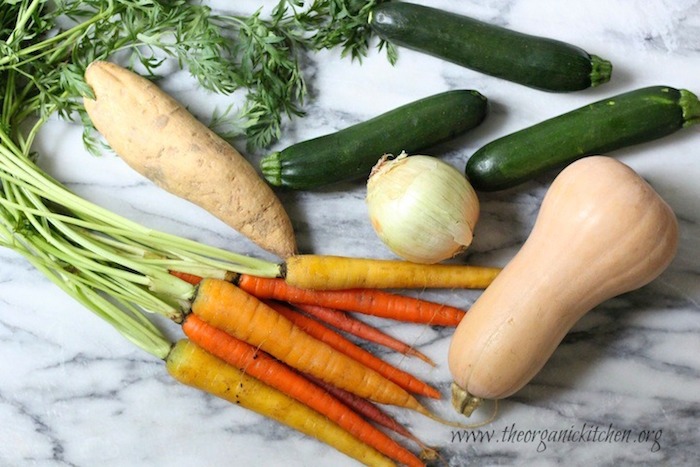 How to Work with Butternut Squash:
You can use the pre-cut butternut squash from the grocery store but if you do, just make sure it's really fresh. If you choose to cut you own working with the right tools can make it a snap! Use a 'y' peeler to peel squash and a very sharp knife to cut it. A dull knife literally won't cut it…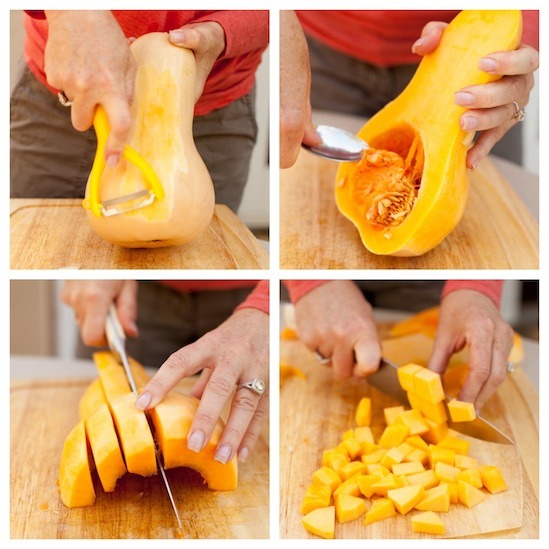 How to Make Roasted Vegetable Soup!
This hearty soup is chock full of fall flavors, and for a vegetarian dish it is very hearty. You won't miss the meat! In fact I call it a soup, but it may just qualify as a stew.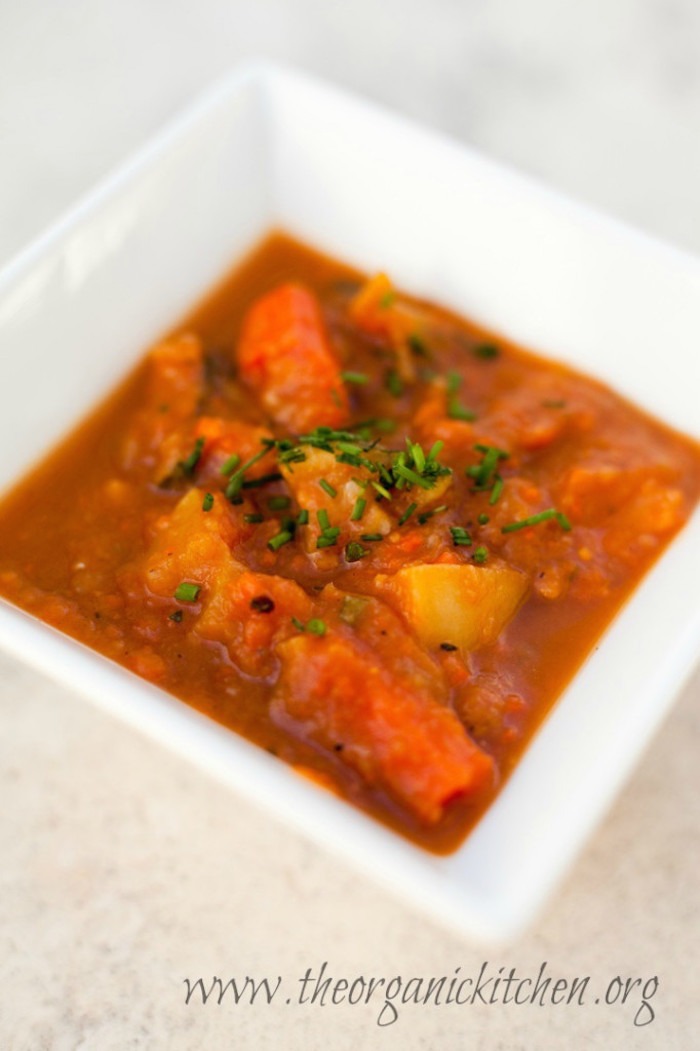 We Start By Roasting the Veggies:
Once vegetables are cut, drizzle all (except zucchini) with just enough olive oil so that vegetables are lightly coated. Sprinkle with sea salt and a generous amount of freshly ground pepper.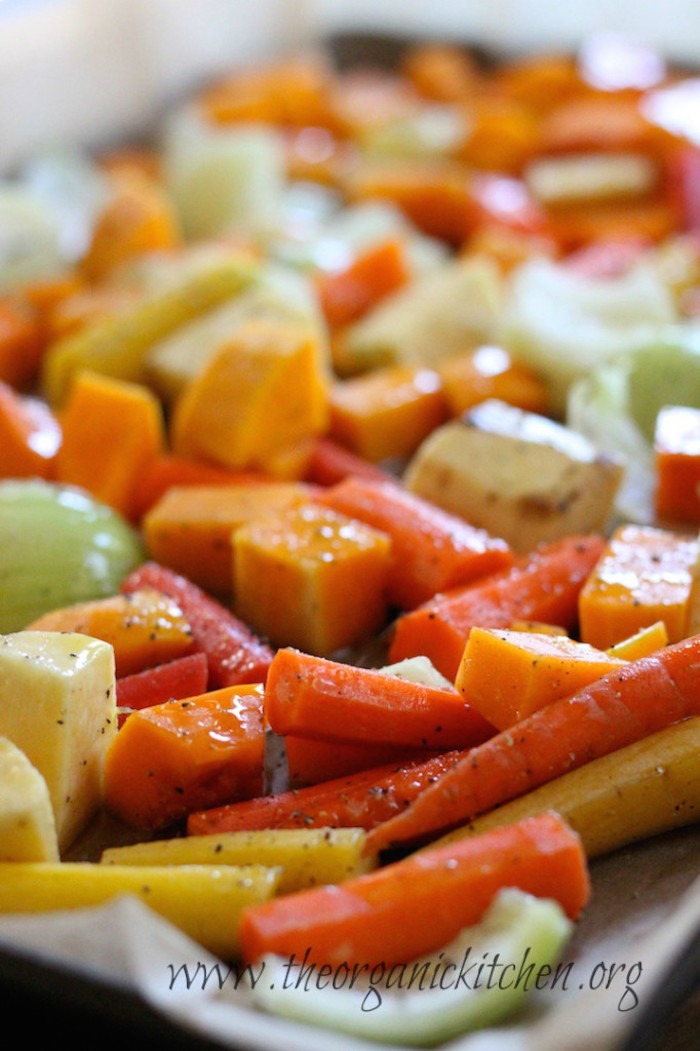 Pop all the veggies except zucchini in the oven. We add that the zucchini the last ten minutes of roasting.
Roasted Red Bell Peppers: Buy the Jar or Roast Your Own:
This recipe calls for a roasted red pepper. You can use the kind in a jar or roast your own! Simply place the pepper on top of a cooktop burner on medium heat. As the skin blackens use tongs to turn the pepper. Once all the skin is completely charred, remove from heat, place in a bowl and cover. Allow pepper to steam in it's own heat for 10 minutes. Then use your fingers to peel the blackened skin off and cut out the seeds.
When all the vegetables are done roasting, separate into thirds.

Making it Into Soup!
Puree 2/3 of the vegetables with chicken or vegetable stock, canned tomatoes, and red bell pepper in a blender reserving the last third of vegetables.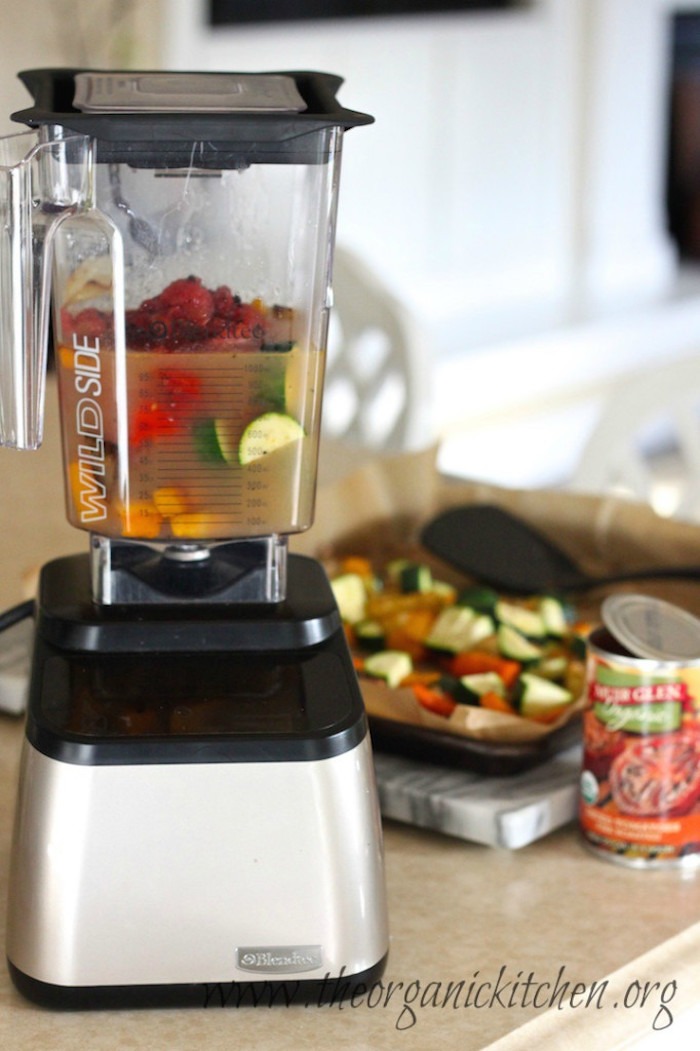 Roughly chop the reserved vegetables …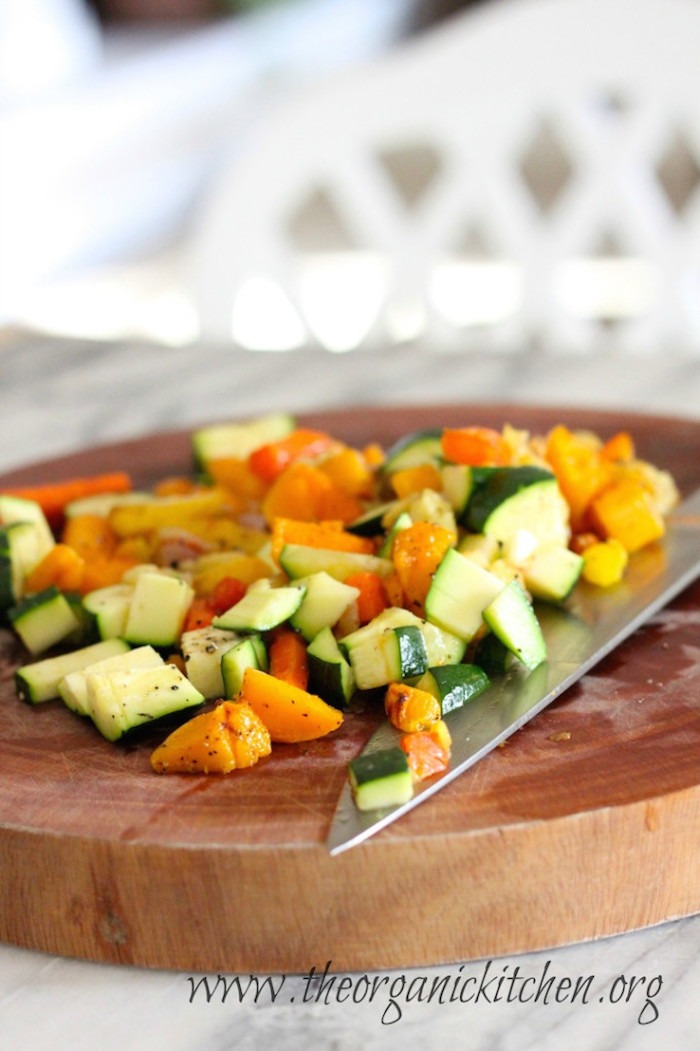 Then add them to the blended soup for texture! Stir them in…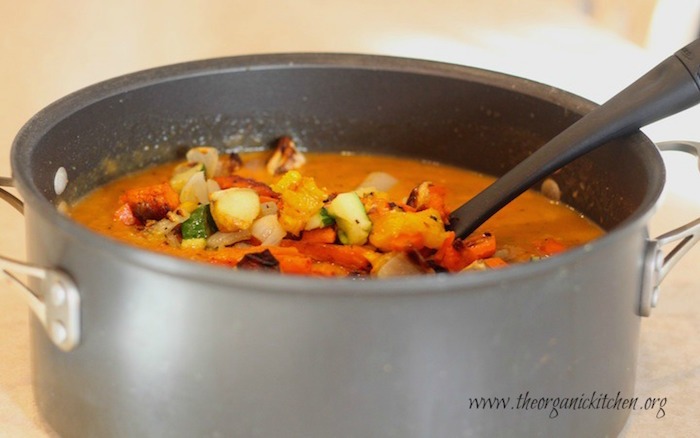 Et voila! A nutritious, delicious soup recipe that is delicious fresh but also freezes beautifully for later use!
The Recipe: Roasted Vegetable Soup!
Variations, tips and what you will need: Add rotisserie chicken and/or wild rice if desired! You will need a blender, I love my BlendTec, a rimmed baking sheet and parchment paper. This recipe is Whole30 and Paleo compliant.
Roasted Vegetable Soup!
a delicious hearty soup that freezes beautifully!
Keyword:
easy dinner recipe, freezer friendly
Ingredients
1

medium sweet potato, orange or white, peeled and cubed

3

cups

butternut squash, peeled and cubed

7

medium carrots, peeled and cut into 3 inch pieces

1

medium yellow onion, cut in half then cut each half into six sections

2

large zucchini, diced (set aside)

14

oz

can fire roasted tomatoes

½

a roasted red bell pepper, ()from a jar or roast your own)

6

cups

veggie or chicken broth (2 cups reserved for thinning soup if necessary)

Sea salt

Freshly ground pepper

¼

tsp

cayenne pepper

Olive Oil (roughly 3 tablespoons)

3

T

balsamic vinegar
Instructions
Preheat oven to 400 degrees and place rack in upper third of oven.

Peel and cut fresh veggies. Place all vegetables (except zucchini) onto a cookie sheet covered with parchment paper. Drizzle vegetables with olive oil, toss. Sprinkle with sea salt and freshly ground pepper, toss again. Set timer for 40 minutes. When timer goes off, sprinkle the diced zucchini across the roasting veggies on cookie sheet. Roast for ten more minutes.

Remove veggies from oven. Leaving vegetables on cookie sheet use a spatula to divide veggies into three equal sections. Place 1/3 third of the veggies into a blender, add two cups broth, half the can of roasted tomatoes and half of one roasted red pepper. Blend till not quite smooth. Pour into stock pot. Repeat (excluding the red bell pepper) with another 1/3 of vegetables, tomatoes and broth. After blending second batch, add to pot. Place the last 1/3 of veggies on a cutting board and use a knife to dice. Add the diced vegetables to blended soup in the pot and heat until warm. If soup is too thick, use reserved broth to thin to desired consistency (a half cup at a time). Add Cayenne pepper and 2-3 tablespoons balsamic vinegar, tasting after each addition. Salt and pepper to taste if needed, serve.
More Delicious Soup Recipes:
For more amazing, healthy, nutrient dense soup recipes click!
MAY I PLEASE ASK A FAVOR?
We small bloggers need all the help we can get. Subscribing and sharing on social media is very appreciated!