I finally jumped on the spiralizer bandwagon, and I am so glad I did. If you are not familiar, a "spiralizer" makes vegetables like zucchini, sweet potatoes, and carrots into 'noodles'. This Zucchini Noodles with Ginger and Tomatoes is a perfect way to use this brilliant kitchen tool.
(This post contains affiliate links. I may make a commission from sales but your price remains the same.)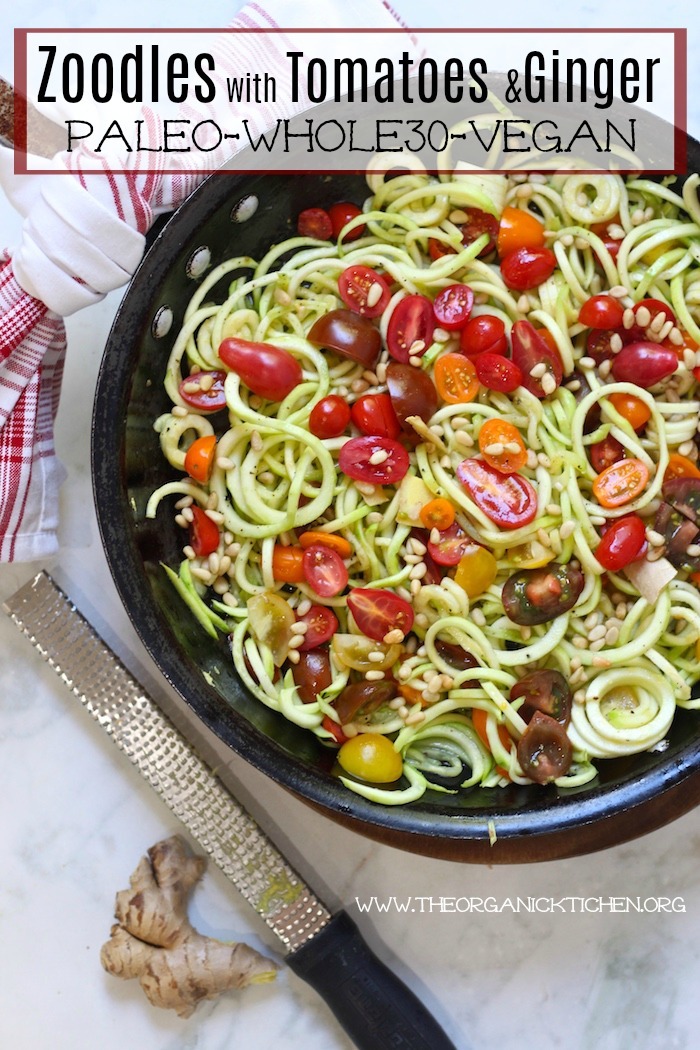 Zucchini Noodles with Ginger and Tomatoes, So quick and easy:
Talk about a quick, easy and healthful lunch or dinner. Ten minutes prep, and five minutes to cook. That's it! And look at these incredibly healthy ingredients: zucchini, tomatoes, ginger and garlic. Both ginger and garlic are herbs with natural anti-inflammatory properties. So use as much as you like!
How to Grate Ginger:
Don't be intimidated by ginger. It's actually easy to work with. I peel ginger using the edge of a spoon and grate it with a microplane. I am aware that a lot of people are not fans of ginger. If this is you, feel free to skip it. This recipe is delicious when made with just the garlic, sea salt and pepper too. If you choose to use it start with a 1/4″ inch nub and if that's not strong enough for you use a 1/2″ the next time.
Let's Talk Spiralizers: You Have Choices!
I used to use a hand crank spiralizer, which is fine and very budget friendly. It's really easy to use. Just cut off the ends of whatever veggie you are spiraling, choose a blade, place the vegetable between the blade and press, then crank the handle. The zucchini comes out of the machine in long 'noodles'. Really, there is nothing to it!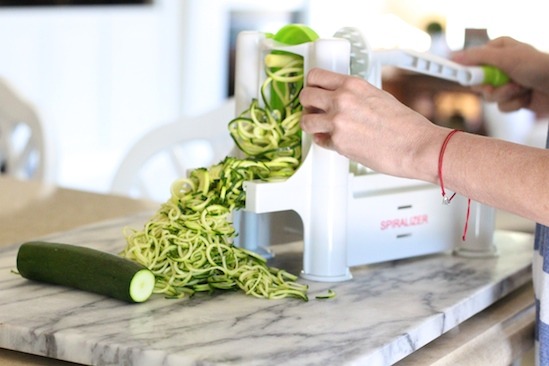 But to be honest it's pretty hard to work with sweet potatoes on the plastic version. You have to use a blade with bigger holes because the small just won't work, and your biceps get a good work out even with the bigger blade. So I recently invested in the attachment for the Kitchen Aid mixer and it's a dream tool! You can just walk away and let the machine do the work!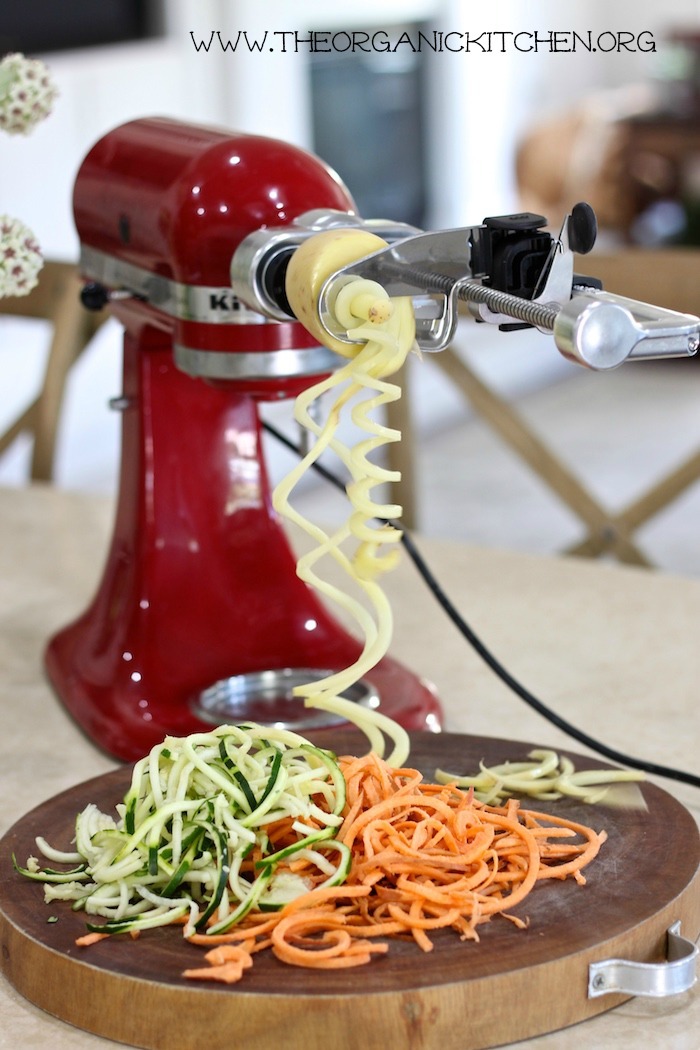 Then just toss the "zoodles" into a pan with a little coconut oil, butter or ghee, garlic, ginger…
…sea salt, freshly ground pepper and tomatoes and you have this beautiful dish! A gorgeous colorful meal in minutes!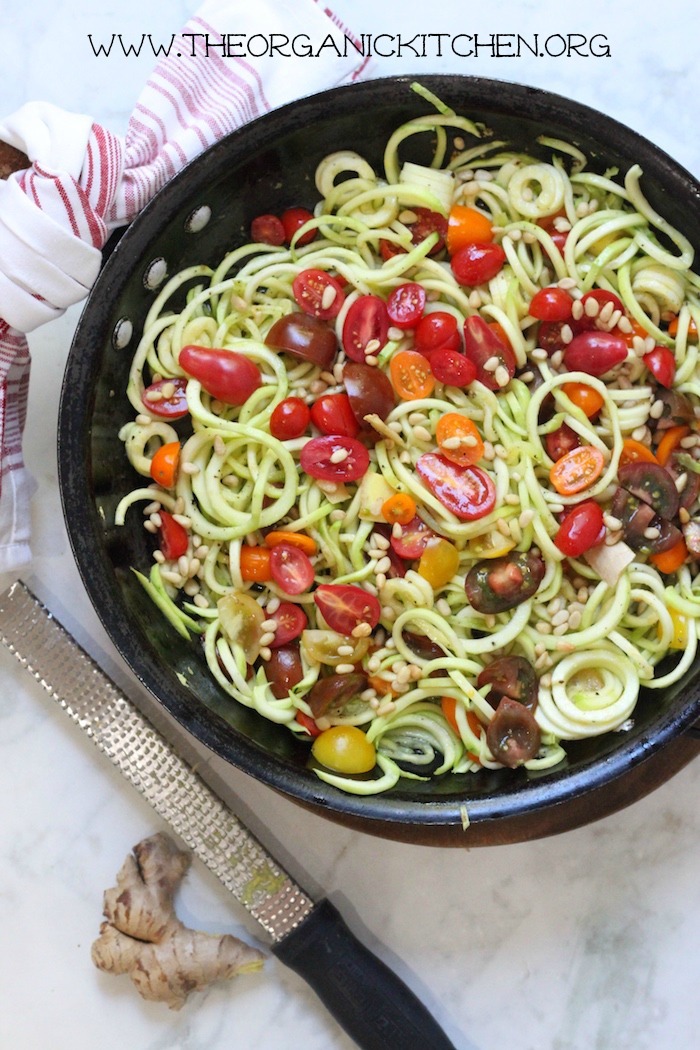 The Recipe: Zucchini Noodles with Ginger and Tomatoes
You will need: either a hand crank "spiralizer" or the  attachment for the Kitchen Aid mixer  and you may wish to invest in a spiralizer cookbook.
Zucchini Noodles with Ginger and Tomatoes
Paleo, Whole 30 and Vegan zucchini noodles with ginger, garlic and tomatoes. If you don't love ginger you can skip it. It's great either way! I highly recommend sprinkling zoodles with sea salt and allowing to rest for 15 minutes before cooking. This prevents sogginess:)
Keyword:
easy dinner recipe, Whole30 recipe
Ingredients
4

med size zucchini, ends cut off and 'spiralized'

1

cup

heirloom cherry tomatoes, cut in half

1

clove

garlic, minced

1/4-1/2

inch

ginger nub, peeled and grated with a microplane

1

teaspoon

sea salt

pepper, to taste

1-2

Tablespoons

olive oil

handful of roasted pine nuts: optional
Instructions
Use your spiralizer to make zucchini noodles, or "zoodles". Place them in colander, sprinkle with sea salt and toss. Let rest for 10 minutes, then place between two paper towels to press out excess water. While zucchini rests, slice tomatoes, mince garlic and grate ginger.

Place olive oil in a large pan on medium heat.

When hot, add garlic and sauté for 1-2 minutes.

Add zucchini. Cook for 3 minutes gently stirring occasionally.

Add 1/4" -1/2" grated ginger (depending on taste preference) and tomatoes, cook for 2-3 more minutes. Sprinkle with freshly ground black pepper and sea salt. Garnish with pine nuts if desired. That's it!
 MAY I PLEASE ASK A FAVOR?
We small bloggers need all the help we can get. Subscribing and sharing on social media is very appreciated! 
  View The Organic Kitchen's Privacy Policy.
Post tags: gluten free, dairy free, vegan, paleo, vegetable, side dish